Garage Door Openers
Back To Our Services
As a professional garage door repair team, we have a very delicate and immediate approach to problems related to openers. Finding the right solutions in a timely manner aims at helping people enjoy automatic operation as soon as possible again but also avoid accidents. Trained to offer full services regarding all garage door openers designed for residential use, our knowledgeable technicians deliver assistance whether you urgently need to fix the reverse system or just want routine opener inspection.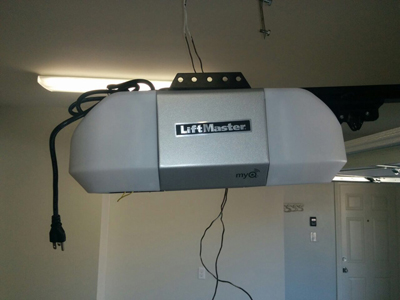 "Garage Door Repair in Garland" is here to make your access convenient and door performance safe. Opener services range from the installation of new door operators to their replacement, routine services, and emergency repairs. By having all residential opener needs covered, our dedicated team guarantees your safety from day one.
Our team offers opener replacement and repairs
With knowledge of the latest Chamberlain and Genie opener products, ability to fix Liftmaster and Marantec operators alongside expertise in models by all big brands, our team can be a valuable asset. Do you want to replace the existing Sears opener? Is there something totally wrong with the way your overhead door moves? Meticulous technicians offer same day troubleshooting, fix the chain or trolley, check the door arm, change the opener settings, replace wires, and repair the sensors. All opener components have equal importance in the way the door will operate with the photo eyes being the first parts we check since they guarantee people's safety.
Our company guarantees your safety, too. By fixing anything wrong with the opener and responding fast to calls for emergency garage door opener repair, professionals take swift action and offer solutions within a reasonable time. Depend on our technicians to fix trouble but also to maintain the opener, replace the old one or its worn parts, make suggestions, and check the force of the door. We have access to repair parts, the capacity to order new electric operators, and proficient skills to install them. Whether you have belt, chain or screw operating systems, experts are able to service them and keep them in excellent condition. Thanks to continuous training on the latest openers plus their accessories, repair and installation needs are covered fully and certainly to your satisfaction. Find out more about the company's deals through our website and send us a message if you want experts for services now!